Mt. Saint Helens, Shallow‐Box Charbroiler, 34″ w, (5) 6″ x 24″ cast iron grates on sliding stainless steel frame, "heat‐sink" style fire box cast from dense high‐temperature ceramic, insulated, includes (1) grate tool, (1) particle shovel & (1) T‐style floor brush 40″, stainless steel exterior, stainless steel wood storage cabinet base, casters set of 4 (2 locking 2 non locking), cETL
000‐401‐34 Shelf, stainless steel, includes utensil rail, for front of charbroiler SFB‐34 (Note: two (2) each can fit on front) Optional $425
000‐402‐34 Sauce Pan Rack, stainless steel, includes utensil rail, 1/6 pan with lid and 2‐1/2 quart round pan with lid, for front of charbroiler SFB‐34 (Note: two (2) each can fit on front) Optional $495
WS‐TL‐WHC Wood handling cart Optional $1395
View Specks #1 – https://woodstone-corp.com/product/mt-st-helens-solid-fuel-charbroiler-36-series
View Specks #2- http://woodstone-corp.com/wp-content/uploads/assets/MtStHelens_Charbroiler_SFB_M0059.pdf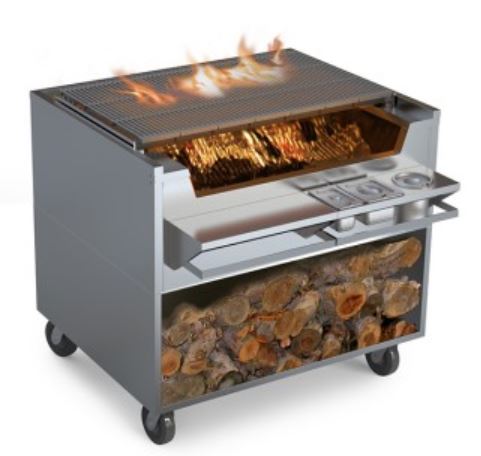 There has never been a charbroiler like today's Wood Stone Charboiler. Here's why:
Single-Piece Cast Ceramic Firebox – Built from the same ceramic refractory that we use in our world-renowned stone hearth ovens, the firebox in our wood-fired charbroilers is designed to hold on to heat. This allows for greater fuel efficiency since the heated stone can replace energy that would otherwise be generated by wood or charcoal and also makes it simple to heat the entirety of the charbroiler evenly. Other manufacturers use replaceable firebrick or similar materials to line their fireboxes, contrasted with Wood Stone's cast firebox which is built to never need replacing. Which would you specify in your kitchen?
Fuel Efficiency – Wood Stone broilers are built to be more efficient than other open charbroilers. Our design promotes the proper amount of airflow to the coal bed for combustion, while minimizing exposure so fuel is not wasted or burned needlessly. Our ceramic firebox becomes "charged" with heat, which allows us to use less fuel.
Highly Versatile – Our charbroilers are designed to be as versatile as possible, starting with the platform they are built on. With 5 different widths spread across two different depths, each available with a wood storage base or as a countertop model, there is a properly-sized Wood Stone charbroiler for every application. When combined with a smartly-designed suite of accessories (i.e., the Okanogan Single-Spit Rotisserie, Broiler Shelf, Skewer (Satay) Rack and various cooking racks and searing plates), almost anything is possible.
Trusted Support – Wood Stone offers support and guidance before and after the sale: answering initial questions, welcoming guests to the test kitchen, and providing industry-leading 24-hour service support. You are family when you choose Wood Stone.
Well-Deserved Reputation – Wood Stone Corporation, based in Bellingham, Washington, has been manufacturing stone hearth and specialty commercial cooking equipment for the foodservice industry since 1990. We have more than 13,000 installations in over 75 countries around the world. We are proud that all of the equipment we've manufactured is still in good working order, including Oven Number 1.
Visit our charbroiler product line page for additional information about the Mt. St. Helens solid-fuel charbroiler (in various sizes) as well as the Mt. Shuksan Deep Box Charbroiler.