Affordable, Fast, & Hassle Free
The Quik n' Crispy is a patented, versatile cooking system that fries, grills, and bakes frozen foods without the use of grease and without the need of a vented hood system. The "fried" menu items are ovenable products, hundreds of which are readily available from food distributors and wholesale clubs. Many of the identical items cooked in deep fat fryers can be prepared in the Quik n' Crispy. Examples include egg rolls, corn dogs, battered veggies and cheese sticks, seasoned and battered french fires.
Video – >>>>DOPPLEGANGER SERVES HOT2HOME FRIES <<<<
Serve Restaurant Quality Food without the Cost of a Full Kitchen!
The Quik n' Crispy uses radiant heat in addition to convection, providing the operator with the ability to "grill" precooked meat items such as hamburgers, hot dogs, chicken fillets and sausages. These menu items are also readily available for purchase, and prepared in the Quik n' Crispy, your customers will think that they were cooked on a charcoal grill in your backyard!
Frozen pizzas, pretzels, funnel cakes, churros, hot toasted sandwiches, baked potatoes, casseroles, and other items can be baked in the Quik n' Crispy, providing our customers with unsurpassed versatility and value!
The Quik n' Crispy is a patented compact, counter top "hot air" unit used for quickly reconstituting, by convection and radiant heat, frozen, fully cooked or oven ready "fried" type foods.
Products such as french fries, chicken nuggets and strips, fried chicken, egg rolls, battered vegetables and finger foods are prepared to the consistency of deep fat fried foods, without grease.
These menu items prepared in the Quik n' Crispy have a fat reduction of 20% to 40% compared to similar products that are prepared in a deep fat fryer. In addition, the Quik n' Crispy can also grill other frozen foods such as pre-cooked hamburgers, grilled chicken breast fillets and hot dogs. Also, it can bake pizzas, pretzels, hot sandwiches and other menu items to a high quality with a flaky and "freshly baked" finish.
Using only hot air and radiant heat, the Quik n' Crispy quickly prepares frozen "ovenable foods" to the consistency of fried foods – crispy on the outside, moist and tender on the inside. Since grease is not used, the Quik n' Crispy typically does not require any type of venting.
GFII – 2.5 LBS $3755 plus $150 delivery/120V, "Clean Kit $90"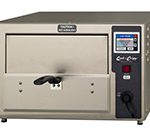 GF5 – 5 LBS $6855  plus $300 delivery "Cleaning Kit $495.00"
208V/240V, GF5 Top of FormBottom of Form
Specifications
 Model GF5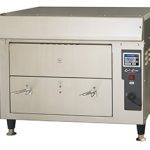 Not UL or C-UL listed
stack them