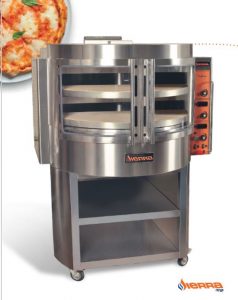 VOLARE Glass Gas Pizza Oven – 100% Ceramic Firebrick Rotating / "NOW IT COMES ON A STAND"
Double rotating gas fired deck oven
"on a custom stand"
RP-2 – SALE PRICE $21,995 plus freight
GAS PIZZA OVEN WITH ROTATING DECK mod. RP1, RP2, RP3 THE EVOLUTION IN PIZZA BAKING Gas pizza ovens with rotating ceramic or stainless steel deck and extra lighting which offers direct visual checking of baking procedure.
The main characteristics of RP ovens are productivity,economy and impressive design.
They produce perfect pizza,pasta in a tray,calzone etc. in minimum time.
The desired temperature can be selected by high performance thermostatic switch and is supervised through analogical thermometer.
Model RP is produced in 3 different sizes,single floor(RP1),double floor(RP2),triple floor(RP3) and every oven is accompanied by its base.
The construction is made exclusively of stainless steel and allocates all safety systems according the international regulations.
Technical Characteristics
GAS Pizza Oven with Rotating Deck mod.RP 1-Plate Capacity  8 pizzas – Potential for 80 pizzas (30 cm) per hour
Length (mm) 1280
Depth (mm)   1090
Height (mm)   1470
Internal deck dimensions (mm) 980
Power (kW)  16
Gas consumption LPG-G30 (kg/h)  1,251
Gas consumption N.G.-G20 (m3/h)  1,688
Weight(kg) 195
Electrical Connection 230V
GAS Pizza Oven with Rotating Deck mod. RP 2 – Capacity 16 pizzas – Potential for 160 pizzas (30 cm) per hour  $
Length (mm) 1280
Depth (mm)   1090
Height (mm)   1650
Internal deck dimensions (mm) 2×980
Power (kW) 24
Gas consumption LPG-G30 (kg/h)  1,877
Gas consumption N.G.-G20 (m3/h)  2,532
Weight(kg) 250
Electrical Connection 230V
GAS Pizza Oven with Rotating Deck mod.RP3 – Capacity 24 pizzas-Potential for 240 pizzas (30 cm) per hour
Length (mm)  1280
Depth (mm)    1090
Height (mm)    1650
Internal deck dimensions (mm) 3×980
Power (kW) 32
Gas consumption LPG-G30 (kg/h)   2,502
Gas consumption N.G.-G20 (m3/h)  3,376
Weight(kg) 314
Electrical Connection 230V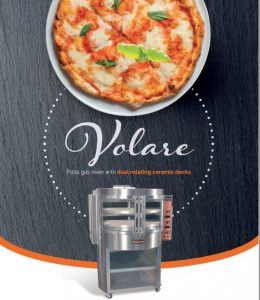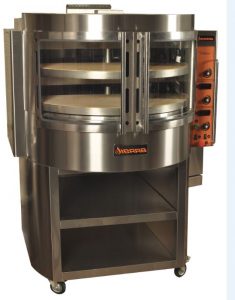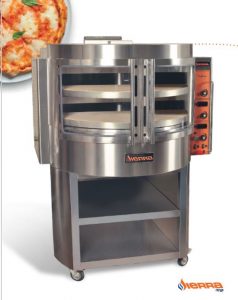 Dont forget to Check Out Our New:
Chicken gas rotisserie without heated cabinet  $4795
With heated cabinet $5695 plus fright
see link – http://www.tamirson.com/product_info.php?products_id=6789