Light Duty Shawarma Knife-Electric Shawarma Knife- 2 In 1 Electric Knife-Commercial Restaurant Grade
Shawarma Knife – Blades are made in Germany – Free Shipping
Designed for light duty use, the Shawarma Knife is used in low volume restaurants and street fairs where speed is essential! The Shawarma Knife features a high heat plastic handle designed to withstand the heat from the Shawarma machine while slicing with the spinning knife. Recommended for small restaurants where production is less than 20-25 lbs a day.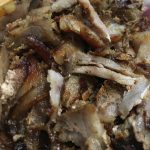 Features & Benefits
Electric powered for continuous operation
Water Resistant
High heat plastic handle
Conveniently located on/off switch
Consistent slices every time
2 Stainless steel cutting blades
Stainless steel blade guard
Sharpening stone included
Simple to use
Easy to clean
No tools needed to adjust slice thickness

Specifications

Manufacturer: Shawarma Knife
Model: SG100W
Weight of Spinning Knife: 2.5 lbs
CE Certificate
1 Circular Knife, 1 Sawing Knife
Cutting Thickness: 0-8mm (0- 0.31inches)
Weight:
4.00 LBS
Shipping:
Free Shipping
Our Shawarma Knife, uniquely designed to slice more meat with less effort. Whether you use it for Beef Shawarma, Chicken Shawarma, Turkey Shawarma, Gyro, Souflaki, Doner Kebab or Tacos Al Pastor, using our Shawarma Knife will yield an average of 24 more sandwiches per meat cone than a traditional Shawarma knife!
Made from surgical stainless steel, the patented blades are sharp and long-lasting, to create consistent slices that are long and thinner than those sliced with traditional Shawarma knives. The result? A great looking Shawarma Sandwich sure to please even your most discriminating patron.
Our Shawarma Knife is designed to reduce hand muscle fatigue, which means faster slicing and increased employee productivity. You simply slide the knife down on the meat cone and you are done. It couldn't be easier! And it is safe to use.