Kufta Skewer are packed 6 each
1" wide, 1/8" thick and a 23" long blade with a 6" wood handle. 
If you are going to be cooking Kufta's (ground meat on a skewers), this is the best skewer on the market. Season your meat to taste and make sure you mix your meat blend vigorously for at least 5 minutes. The vigorous mixing of your meat helps bind it together when you put it on the skewer. You can form your meat on the skewer or roll it out and then skewers it. Both ways work well.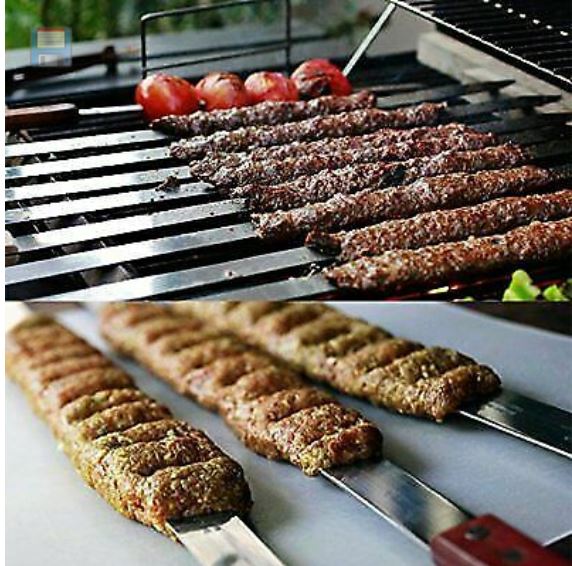 Kabob Skewers – 23 inch, 1 inch Wide Stainless Steel Barbecue Skewers, Reusable Metal Skewers for Grilling BBQ – Set of 6pc with Bag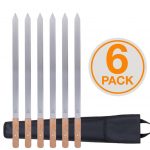 🔥 LONG FLAT, WIDE BLADE, NO SPIN ★ Perfect fo kabob ( Kebab ) Keep your food from spinning/rolling and it will be so easy to cook those complex flavors like lamb kabobs, shish, kofta, turkish, shashlik, seekh kabob on the bbq grill.

🔥 PERFECTLY LONGER LENGTH OF 23 INCH ★ Premium 430 Stainless Steel Skewers are Extra Large at 23 inches long and 1 inch Wide—so you can fit more meat or vegetables on every skewer. Food Grade Quality Stainless Steel Skewer. A set of six (6pc) means you can cook for your entire family.

🔥 WOODEN HANDLE DESIGN ★ The wooden handle protects your hands from the heat that travels throughout the length of the metal skewer and keeps the handle cool and easy to work with. Its Easy to Clean Skewers and they are Dishwasher safe.

🔥 QUALITY HANDY STORAGE POUCH ★ You can bring these skewers to friends' homes, where you can stun them with your amazing koobideh recipe. The carry bag has a cloth hook so you can store the skewers in a safe place on the kitchen wall. Reusable kabob skewers set