Ideal for start-up businesses, bars and clubs, family entertainment
centers, delicatessens, snack stands, and others who wish to
prepare and serve protable restaurant quality menu items at a
fraction of the cost of building a commercial kitchen.
■ Great for businesses such as resorts, hotels, and restaurants with
lounges, that already have a full kitchen. They can now close
the kitchen earlier, saving thousands in labor cost, and still serve
delicious late night snacks and appetizers to their customers!
■ New Easy to Use LCD Color Touch
Screen Display - Create and Edit 15
recipes with menu names, times, and
temperatures. Use the USB feature to
import and export recipes to multiple
units within your system!
■ Simple and easy to operate – you don't need a culinary trained
chef or cook to produce crispy and delicious menu items!
The 120 volt, 14.5 amp Quik n' Crispy® utilizes
a standard 120 volt plug, NEMA #5-15P and can
be plugged into any standard outlet. It takes
approximately 9 minutes to warm up from room
temperature to 420°F.
The 120 volt, 18.3 amp model requires a dedicated
20 amp circuit and utilizes a 20 amp plug, NEMA
#5-20P. It takes approximately 6 1/2 minutes to
warm up from room temperature to 420°F.
The dual voltage 208 volt / 240 volt unit utilizes a
single phase, 4-wire, 30 amp plug, NEMA #14-30P.
It takes approximately 1.5 to 2.5 minutes to warm
up from room temperature to 420°F, depending on
the input voltage. Since the pre-warm is so quick
with this model, it provides the operator with "Cook
to Order" capabilities.
Model GF II SPECIFICATIONS
(Six Menu Operation)
Electrical Specications:
Voltages US / Canada: Single Phase • 60 Hz. (C-UL Listed)
120 volt (1740 watts • 14.5 amps)
120 volt (2200 watts • 18.3 amps)
208 volt / 240 VAC
At 208 VAC (4326 watts • 21 amps)
At 240 VAC (5760 watts • 24 amps)
Voltages International: Single Phase * 50 Hz. (CE Listed)
230 / 240 VAC
At 230 VAC (2460 watts • 10.7 amps)
At 240 VAC (2670 watts • 11.1 amps)
Other Specications:
External Dimensions 13.5" H x 21" W x 20" D
Cooking Basket: 2" H x 12" W x 12" D
Shipping Carton: 18" H x 23.5" W x 23.5" D
Shipping Weight: 70 lb.
Patent: US Patent # 5,066,851
Warranty:
1 year on parts, 90 days on labor
epare up to 2 lb. of a single product per batch, or 4 to 6 different
menu items at one time!
Company History
QNC, Inc.(QNC) is a Dallas, Texas based company that manufactures and markets a line of innovative commercial cooking appliances called the
Quik n' Crispy Greaseless Fryer
. The Quik n' Crispy is a patented compact, counter top "hot air" unit used for quickly reconstituting, by convection and radiant heat, frozen, fully cooked or oven ready "fried" type foods. Products such as french fries, chicken nuggets and strips, fried chicken, egg rolls, battered vegetables and finger foods are prepared to the consistency of deep fat fried foods, without grease. These menu items prepared in the Quik n' Crispy have a fat reduction of 20% to 40% compared to similar products that are prepared in a deep fat fryer. In addition, the Quik n' Crispy can also grill other frozen foods such as pre-cooked hamburgers, grilled chicken breast fillets and hot dogs. Also, it can bake pizzas, pretzels, hot sandwiches and other menu items to a high quality with a flaky and "freshly baked" finish.
QNC was founded in May, 1990 by Paul Artt (pictured right), President of QNC, for the purpose of acquiring the Quik n' Crispy product line from Tidel Systems, Inc. ("Tidel") and to manufacture and aggressively market the Quik n' Crispy product line. Mr. Artt was formerly the Vice President of Food Equipment at Tidel. He had exclusive management responsibility for the Quik n' Crispy product line from its market introduction up until the time of its sale to QNC.
QNC has marketed the product line since 1990 and has sold over 10,000 units. During this time, a number of enhancements have been designed into the production of the standard sized Quik n' Crispy (Model GF II – pictured left). Many of these changes were implemented as a result of feedback from chain accounts who have expressed an interest in the Quik n' Crispy. These design changes resulted in the reduction of cooking times by up to 20% over previous models. The changes also improved the cooking consistency of the unit. In addition, to provide customers with a unit that is easier to clean, a removable front panel and splash guard were designed into the unit in August 2003.
In April 2003, QNC launched its newest model, the GF5 (pictured right). This unit has twice the cooking capacity of the Model GF II, cooks 10% to 15% faster, producing a crispier product, and it includes a built in air filtration system. Also, because the air flow in this model has been changed from that used in the GF II, raw dough products such as self-rising pizzas can now be prepared in a Quik n' Crispy. The GF5 has opened up several new markets to QNC including K-12 school nutrition programs, military bases, hospitals, chain restaurants, amusement parks, convention centers, sports stadiums and other higher volume accounts. GF5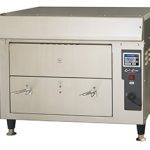 GFII